Scallops
i just made the most delicious scallops i've ever had. it's just me tonight for dinner, since phillip works late. sometimes that's a good thing, because i'm able to cook seafood while he's at work. phillip hates any kind of fish. and there's no getting him to eat it, no matter what.
so i made a quick, easy, and light dinner for myself.
here's what you need (this is for one serving):
1/4 lb scallops, any size (i used the tiny ones because they were on sale)
1Tbs butter
dash of garlic powder
dash of salt
two cups of egg noodles
here's what i did
boil water for the egg noodles.
heat a skillet till it's hot. melt the butter in the pan, when it's almost all melted, add the garlic powder and salt.
add the scallops to the pan. make sure you cook them well. i tend to over-cook mine, but i like them that way. you'll know that they are thoroughly cooked when they are white. there should be no pink showing. if you over-cook them, you'll know. because they will brown :)
when the water has boiled, add the egg noodles. when they have cooked to your liking (i like mine al dente), drain and put back into the large bowl you used to cook them in.
add the scallops to the noodles and toss together.
add more salt or garlic if you like.
serve and eat!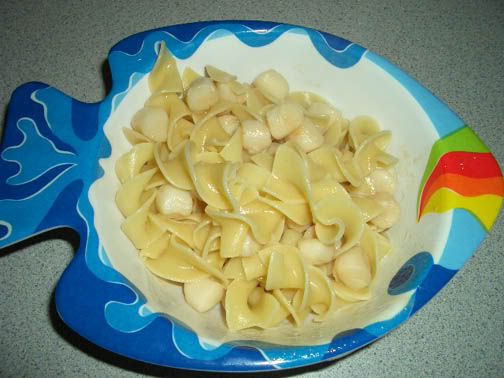 it might look bland, but it isn't. very quick and great for those of you who enjoy scallops.